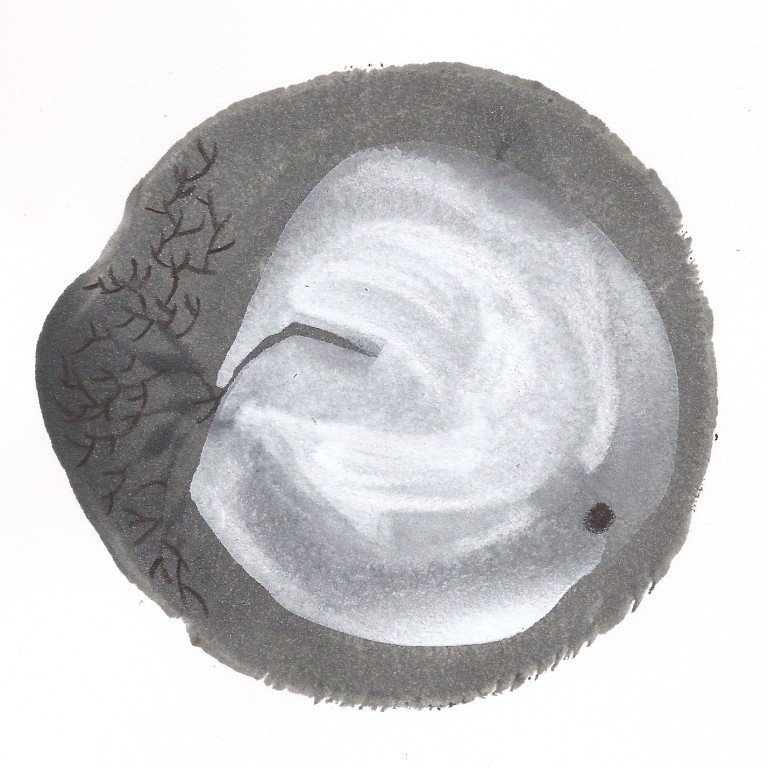 Scene One
I am sitting in a small, cheap, white room, with a small group of people facing an old pull-down projection screen in front of a white wall. Below the screen sits a small man in off-white robes. He is the Tibetan master Dilgo Khyentse Rinpoche (who died in Bhutan in 1991; he was known for his incredible peace, his incredible height and his fondness for being un-clothed).
A question arises—as if it was asked from the audience but I do not remember it being asked. The question is 'What is a guru/teacher for?' I, also dressed in white, walk up to his left side and go into a deferential child's pose. After a while I lie on my right side, lay my head on his thigh and rest.
Scene Two
I am in a rich white bedroom. Dilgo Khyentse is lying face down on a bed covered in white linens. His robes are undone to his waist, exposing his back. I am also on the bed massaging his neck, shoulders and back. He is ill, perhaps a migraine or more. I ask if he needs some drugs (thinking Advil). He says that someone will find out (that he is ill or using drugs, I'm not sure) and that can't happen. He says it is just like my cat (which makes sense in the dream). The massage goes on for a long time.
Scene Three
I am in the parlor of a large house in the country (France or England). Rinpoche's bedroom is upstairs. Students gather and want to see him. Myself and a few others (one of them like Trevor Howard in The Third Man1 1 I had seen 'The Third Man' the night of this dream.) know Rinpoche is ill and want to protect him. We do not want the others to know he is ill.
We tell them that he has gone out. It is night and there is deep snow (there is a blizzard outside my window as I write this). Through a glass door in the parlor we point out a track in the snow running parallel to the house. The track looks like a path made by heavy robes dragged through the snow. The outdoor lights on the house illuminate the path. Beyond the path is very dark with a steep hill.
We all decide we must go out and look for Rinpoche as he is in the dark and snow alone. Moment to moment I don't know if he is really out there or up in his room sick. I am not conflicted by this contrast. I go outside to look for my skis. I find the right one with an end stuck in the snow and attempt to wrench it out. Then I realize what I really need is boots. I go inside where the others are preparing to search, put on boots, and leave to search for him.
I do not know if he is out there or not. The path was not made to mislead anyone…
---