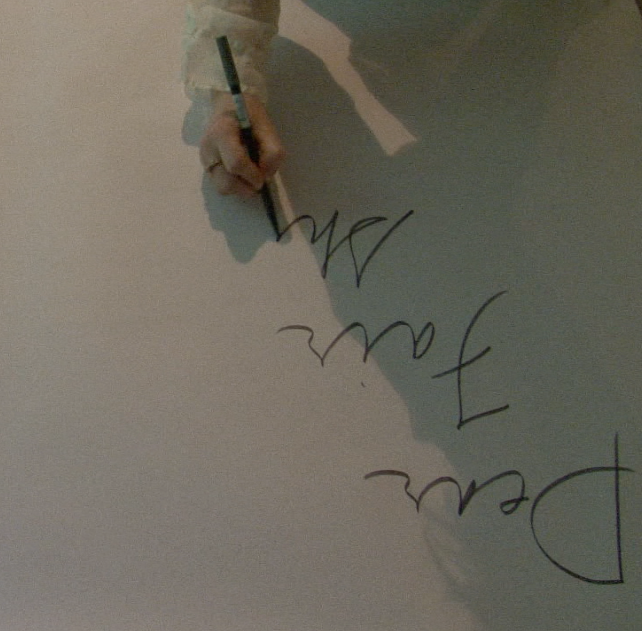 Sinister Ticks
Part of the flirtation is writing each other playful notes.
---
I am engaged in heavy flirtations with an older, dark-haired man who is either an actor playing the man for the purposes of the dream—as if he were 'cast' in the dream—or someone I actually know (or both). He looks kind of like Kyle MacLachlan and kind of like Pierce Brosnan. These flirtations take place in a large, labyrinthine house stuffed with upholstered furniture from the 30s and 40s. Both the rooms and the flirting seem to go on and on.
Part of the flirtation is writing each other playful notes. I leave one for him on the kitchen counter even though he is only in the other room.
Nuala sees the note and asks me to show her how to make the 'ticks' I use in my handwriting. She is referring to little angled marks that seem to be part of my writing.1 1 When I first moved to Providence, I noticed that I was making a little tick off the tops of certain capital letters, which I had never done that before. I mentioned it to a friend who studies handwriting. He said that the classic interpretation would literally be that I was 'ticked off' about something. He suggested I consciously stop making the ticks and see how I felt. I did and that particular small flick of rage subsided. (But I still kind of hated Providence.) I am puzzled because the marks are so uninteresting but I agree to teach her. We huddle down together on the itchy, carpeted floor in front of paper that is either covered in my own handwriting already or it's a newspaper on which I have made the ticks.
There is some confusion as I realize or remember that Nuala is left-handed and if she is on my right, she won't have room to make the mark. We rearrange ourselves and I show her how to draw the quick little mark, sometimes across tiny circles, sometimes over my handwriting. We use a grey ink pen (I always write in grey ink now—and have since I moved to Providence ten years ago).*
The man looks on, lounging on a chair covered in a nubby red tapestry.
*See also Dream 56 The Writing on the Wall
---